Seigen Taras Ramona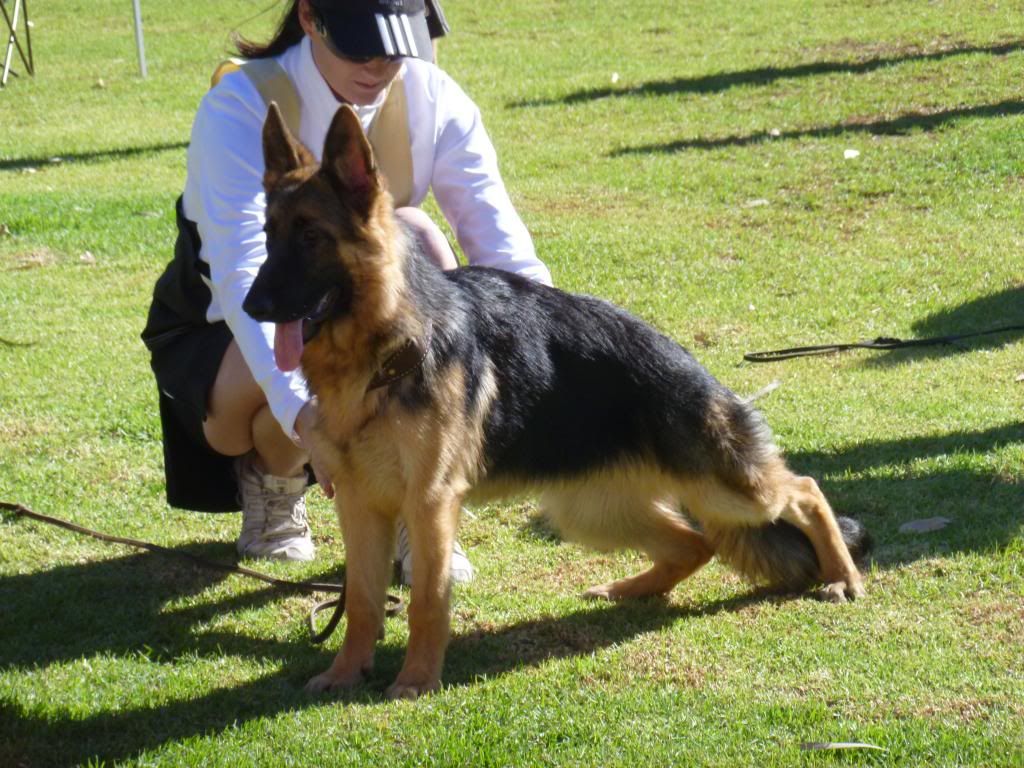 Photo: Seigen Taras Ramona
Pedigree
Breed Survey
Show Results
Photo Album
S:

*Fasties Elle Willy Wonka

S: *Solos vom Team Fiemereck

S: *Nero vom Nöbachtal

D: *Zala vom Fiemereck

D: *Fasties Vienna

S: *Hoss vom Lärchenhain

D: *Daggi vom Laacher-Haus

D: *Seigen Kiss n Tell

S: *Iccara Undercover Agent

S: *Ravdansen's Orvar

D: *Iccara Double Diamond

D: *Seigen Ygraine

S: :*Seigen Jaafaru

D: *Fremont Yours Truly
General Description:
Above medium size, medium strong, substantial black & gold bitch of very good type. Strong, femine head, good masking, and the desired dark eye. Stands with a high wither, firm back, good croup just slightly short. Good angulation of the forequarter where the upper arm should be a little better angled. Very good hindquarter angulation. Stands correct in front. Steps close going, correct coming with the hocks& elbows still to firm. Exhibits powerful movement with very good reach & drive. Presented herself self assured at the survey & is gun sure.

Temperament & Gun Sureness:
Character: reliable, lively, good natured
Watchfulness: very alert
Condition of nerves: firm
Confidence: self assured, outgoing
Reaction to gun test: self assured

Particular Virtues & Faults:
Above medium size, well constructed bitch from a proven well producing motherline, whose sire has contributed to angulations, coat & colour qualities.
Advice for Selection of a breeding partner:
With her normal elbows, recommended to aim for consolidation of excellent hip & elbow scores. Lines of Kwint Juerikstall andf other lines to Zamb Wienerau & Jeck Noricum should be advantageous.

Breed Surveyor Mrs H Gross-Richardson
Welcome to my Photo Album.
Click each link to view larger photo.
NO PHOTOS YET. CHECK BACK SOON!
Contact Details
Chris Gallacher
Pakenham, VIC, Australia
Phone : 0408936393
Email :
[email protected]