Seigen Peggy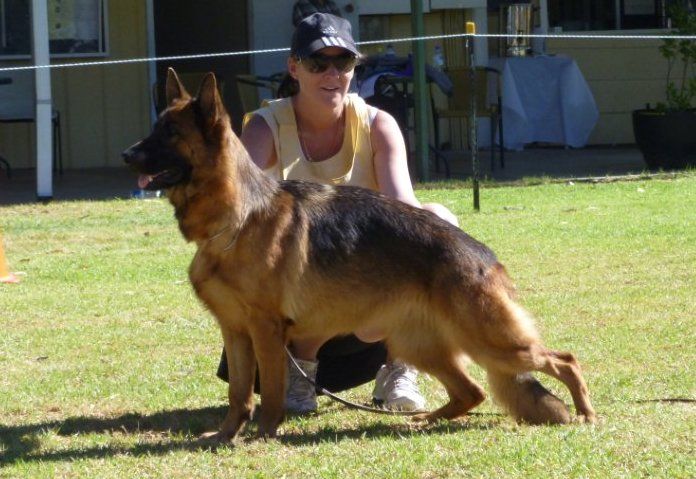 Photo: Seigen Peggy
Pedigree
Breed Survey
Show Results
Photo Album
S: *Fasties Elle Willy Wonka

S: *Solos vom Team Fiemereck

S: *Nero vom Nöbachtal

D: *Zala vom Fiemereck

D: *Fasties Vienna

S: *Hoss vom Lärchenhain

D: *Daggi vom Laacher-Haus

D: *Seigen Ursula

S: *Pino vom Drei Birkenzwinger

S: * Fello vom Farbenspiel

D: *Aisha vom Drei Birkenzwinger

D: *Cherry Pie

S: *Troy von der Noriswand

D: *Fremont Yours Truly
General Description:
Large, substantial, well constructed bitch of very good type & proportions. Strong, femine head, good brown eyes & masking. Stands with a level wither, firm back, slightly short & steep croup. Good angulation of the forequarter, very good hindquarter angulation. Good fore & underchest development. Stands not quite correct in front. Steps slightly close going, wide coming. Shows balanced movement with good reach & drive. Presented herself calmly at survey & is gunsure.
Temperament & Gun Sureness:
Character: trustworthy, reliable, lively, good natured
Watchfulness: alert
Condition of nerves: firm
Confidence: self assured, outgoing
Reaction to gun test: self assured

Particular Virtues & Faults:
Large, substantial, well coated & coloured bitch where the saddle markings should ideally be more pronounced Se has good fore & hindquarter angulation. Good movement with slight restrictions in reach & drive..

Advice for Selection of a breeding partner:
Recommended to the lines of Kwint Juerikstall, Jimmy Baruther Land may be advantageous. Due consideration must be given to lowering the hip/elbow score in the next generation.

Breed Surveyor Mrs H Gross-Richardson
Welcome to my Photo Album.
Click each link to view larger photo.
NO PHOTOS YET. CHECK BACK SOON!
Contact Details
Chris Gallacher
Pakenham, VIC, Australia
Phone : 0408936393
Email :
[email protected]